| | |
| --- | --- |
| Gastrointestinal Application / Sepsis | |
Sepsis

Stomach

Sepsis
Altered perfusion of mucosa of stomach and gut results in and is at the same time caused by sepsis and chronic gut diseases. Measurement of oxygen supply of mucosa is possible with O2C under optical control by an endoscope and has in case of oxygen and hemoglobin measurements the advantage of being independent of movement artifacts. This allows observation of patients with sepsis and their therapy control.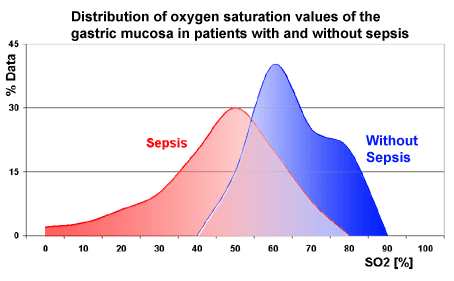 Diagramm taken from:
Am J Respir Crit Care Med 1998 May;157(5 t 1):1586-92
Abnormalities of gastric mucosal oxygenation in septic shock: partialresponsiveness to dopexamine.
Temmesfeld-Wollbruck B, Szalay A, Mayer K, Olschewski H, Seeger W, Grimminger F.
---
Stomach
The probe can be inserted blindly or through an endoscope in the stomach. Position is controlled by the hemoglobin spectra. The reliability of the measurements was shown in measurements in the stomach.
---
Literature:
O2C
Papers
Talks
Empho
Papers
Vorträge
Hypercapnia increases gastric mucosal oxygenation during hemorrhagic shock
L.A. Schwarte, I. Schwartges, A. Fournell, T.W.L. Scheeren, O. Picker; 18th Annual Congress of ESICM, Amsterdam, 2005
Norepinephrine is superior to Epinephrine in increasing gastric mucosal oxygenation.
L.A. Schwarte, I. Schwartges, A. Fournell, T.W.L. Scheeren, O. Picker; 18th Annual Congress of ESICM, Amsterdam, 2005