| | |
| --- | --- |
| Gastrointestinaltrakt / Sepsis | |
Sepsis

Magen

Sepsis
Veränderte Durchblutung der Mukosa von Magen und Darm ist Folge und Ursache bei Sepsis. Die Messung der Sauerstoffversorgung der Mukosa ist mit dem O2C unter optischer Kontrolle mittels eines Endoskops möglich und bietet im Falle der Sättigungs- und Hämoglobinmessung den Vorteil unabhängig von Bewegungsartefakten zu sein. Dies ermöglicht eine Überwachung von Patienten mit Sepsis und deren Therapiekontrolle.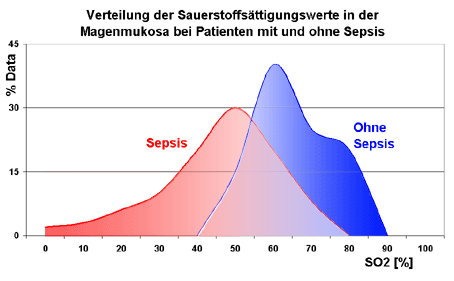 Erste experimentelle Ergebnisse wurden mit dem EMPHO gewonnen (Methode entspricht der des AbTisSpec / O2C-ATS), die wie schematisch in dem Diagramm dargestellt, unterschiedliche Sauerstoffsättigungsverteilungen in der Mukosa beim gesunden und beim septischen Patienten zeigen konnten.
Diagramm aus:
Abnormalities of gastric mucosal oxygenation in septic shock: partial responsiveness to dopexamine.
B. Temmesfeld-Wollbruck, A. Szalay, K. Mayer, H. Olschewski, W. Seeger, F. Grimminger;
Am Respir Crit Care Med 1998 May;157(5 t 1):1586-92
---
Magen
Die Sonde kann blind oder über ein Endoskop in den Magen eingeführt werden. Die Kontrolle der Position erfolgt über das Hämoglobinspektrum. Die Zuverlässigkeit der Messungen wurde in Messungen am Magen gezeigt.
---
Literatur:
O2C
Papers
Vorträge
Empho
Papers
Vorträge
Hypercapnia increases gastric mucosal oxygenation during hemorrhagic shock
L.A. Schwarte, I. Schwartges, A. Fournell, T.W.L. Scheeren, O. Picker; 18th Annual Congress of ESICM, Amsterdam, 2005
Norepinephrine is superior to Epinephrine in increasing gastric mucosal oxygenation.
L.A. Schwarte, I. Schwartges, A. Fournell, T.W.L. Scheeren, O. Picker; 18th Annual Congress of ESICM, Amsterdam, 2005