| | |
| --- | --- |
| Physiology / Other Methods | |
Blood and Oxygen Supply of Tissue

Oxygen supply of tissue

Comparison with alternative methods

Blood and Oxygen Supply of Tissue
Microcirculation is necessary for exchange of nutrients and oxygen.
O2C measures:
oxygen saturation of hemoglobin


As about 75% of blood volume in the microcirculation is in the venous system, mainly venous oxygen saturation is measured. This means the amount of oxygen bound to hemoglobin after distribution of oxygen into tissue. This is the area in the tissue where critical oxygen supply appears first ("lethal corner").
Opposite to the arterial oxygen saturation the capillary-venous oxygen saturation shows the balance between oxygen delivery and consumption. Therefore the local oxygen measurement is an ideal parameter to determine the condition of local tissue hypoxia. Opposite to the mixed-venous oxygen saturation the shunt-blood does only play a small role. Therefore capillary-venous oxygen saturation can be lower than mixed-venous.


relative hemoglobin amount


Shows hemoglobin amount in measured tissue. It shows the filling of microvessels, that is dependent on capillary density, capillary recruitment and venous filling. The hemoglobin amount is the decisive indicator for diagnosis of a venous congestion.


relative blood flow


Shows volume flow in relative units. The blood flow indicates ischemia or hyperemia.


blood flow velocity
---
Oxygen supply of tissue
Oxygen Means Life
Oxygen is essential for almost all cells of biological tissue. Oxygen is mostly transported from the lungs to the capillaries bound to hemoglobin, which is located in erythrocytes. In the capillary network it is consumed by the cells.
Arterial hemoglobin in the greater cardiovascular system is saturated with oxygen up to almost 100% in the lungs (pulse oximeter measurement ). In peripheral tissues oxygen is distributed by the capillaries to the cells. Corresponding low saturation´s of hemoglobin with oxygen are measured in the tissue area at the end of capillaries, close to the venules and even less in the venules close to the veins.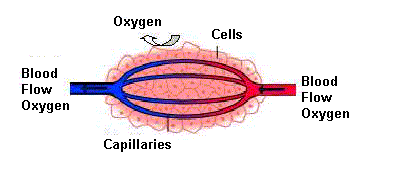 Monitoring of Energetic Metabolism of Cells
With O2C , it is possible to measure locally the amount of oxygen which is transported into the region of interest and to diagnose local oxygen consumption of an organ. 's novelty is monitoring the energetic metabolism of cells by measuring the oxygen uptake with an optical sensor probe. Pathological O2-supply, which can lead to angiogenesis or cell-death and subsequently to organ failure, now can be detected in an early state by use of the new sensor system.
Monitoring of Oxygen Supply Simultaneously in Different Layers of Tissue
The O2C is a multiple channel system which makes it possible to determine perfusion quantities and oxygen values. Channel 1 records the superficial oxygen saturation of hemoglobin (e.g. of the skin), while channel 2 monitors the oxygen supply and hemoglobin values of deeper tissue (e.g. skeletal muscle), due to the extended measurement volume.
---
Comparison with alternative methods
Global Oxygen Supply Parameter
Blood gas analysis: SvO2
determines mixed venous oxygen saturation of the whole body or of one organ, depending on the vein. Does not determine local oxygen saturation in tissue. Problem: Heterogeneity of organ perfusion and influence of shunt blood.
Pulsoximetry
determines arterial oxygen saturation, and is a measure for saturation of blood with oxygen in the lung, therefore the lung function. No information about local hypoxia (as venous saturation is not determined) and locally delivered amount of oxygen (as perfusion not determined).
Local Supply Parameter
Macrocirculation
Ultrasound Doppler
determines blood flow in big vessels. Problem: local heterogeneity in supplied organ, microangiopathies; is only indirect indicator for hypoxia.
Angiography
determines anatomy of supply vessels. Problem: hemodynamic relevance of stenosis, local heterogeneity of organ; is only indirect indicator for hypoxia.
Plethysmography
determines blood flow in whole extremities
Microcirculation
Nail fold microscopy
makes capillaries visible and their pathologic changes. With additional video systems blood flow velocity can be determined. Problem: expensive, cannot be used everywhere in the body, only determines flow in single capillaries.
pO2 tissue oxygen partial pressure
determines pO2 transcutaneously or with needle probes subcutaneously. Gives the mixed value of arterial, venous and tissue-pO2.
Problem: transcutane electrode influences measurement by heating, needle probe by tissue trauma. Both are influenced easily by arterial pO2, so that hypoxia in critical venous areas ("lethal corner") can be overseen. Reason for pO2 change (delivery or consumption) cannot be determined.
NIR-Spectrometry
determines optically oxygen saturation, especially in capillary-venous area of microcirculation similar to the spectrometric method that is used by the O2C. Problem: Reason for SO2 change (delivery or consumption) cannot be determined.
Laser Doppler
determines blood flow in the microcirculation either punctual or by a scanner over a certain tissue area. Problem: low penetration depth, instability. Indirect indicator for hypoxia.